Construction of the Edmonton Temple

Series Titles || Prior Series | This Series | Next Series || Prior Photo | Next Photo.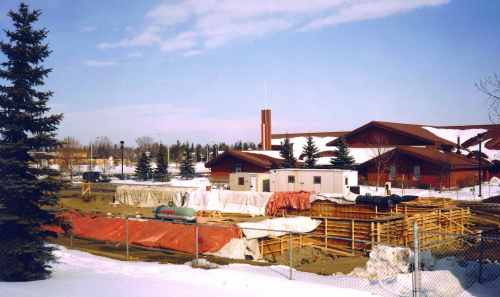 Foundation forms take shape along the west side (left, draped in red);
the south side (foreground to the right) and the front of the building
(just in front of construction trailer, draped mainly in white) which will face the east.
The west side of the Riverbend Stake Center is in the background.
The large grey tank (left center) contains propane to fuel the heaters which will
maintain the concrete above freezing (under the shrouds) while it cures.

______________________________________________
Go to other photos in this series: prior photo | next photo.
Go to Series lists: prior series | this series | next series.
Return to the Edmonton Temple page, its Table of Contents or its Related Sources.
Return to the Meek Family Home Page, or its Table of Contents.

. .

.

---
The URL for this page is: http://www.GoChet.ca/temple/photo_05.htm Contact concerning the content of this page: Chet Meek. Page last updated: 2 January 2016 (RT22-Sm 2.33.n ff, w/SC; Win7pOn

); page created 1 April 1999.
---
.